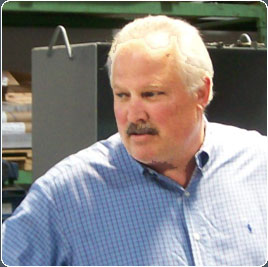 COMPANY PROFILE
MANAGEMENT TEAM
Cal Tech Precision, Inc. manufactures for a global market, large and small, complex structural aerospace parts, measuring from as small as two inches by two inches, to parts over sixty feet long.
Guy Haarlammert heads the company which was founded in 1998. With exceptional business and production management experience, he has put together a company with an infrastructure of dynamic and knowledgeable industry professionals. This elite team of specialists is one of Cal Tech's greatest inner strengths. Culled from some of the most eminent aerospace manufacturing companies in Southern California, many members of the management team have forged strong working relationships together over the span of many years, and in some cases in over two decades.
Expansion and diversity requires courage and a willingness to invest. At the outset, CEO and owner Guy Haarlammert forged relationships with international entities outside the industry, and this along with an outstanding infrastructure, has fueled the company's rapid growth to quickly surpass the company's original strategic plan.
Currently the company's business is split between 70% domestic and 30% international. Cal Tech also created a 60% split for commercial business, and 40% for military applications. It is this diversification that has given the company stability in an otherwise potentially volatile marketplace during unsettling economic times.
Outstanding customer relations are used as a benchmark for quality and service. Cal Tech Precision Inc. rates as a 'Gold Supplier' for many of the most notable aerospace corporations with whom the company does business.
Supported by a superb and dedicated management team, Guy Haarlammert is focused on expanding the company's worldwide reach by offering one-stop-shopping backed by a strong network that encompasses: First rate quality control, streamlined approval processes, continued equipment and IT investment and a cutting edge approach to engineering, tool design, programming and machine utilization.
By measuring itself against the best in the market, and continuing a forward-looking strategy, along with a willingness to continue to invest in the best people and equipment, Cal Tech Precision Inc. looks forward to continued growth and lasting success by securing its sustained ability to offer customers quality products promptly delivered.